Lululemon has over the years become not just a brand, but a community of women, passionate about fitness and health. Besides being a pioneer in the fitness world, Lululemon has consciously carved a niche for themselves in the athleisure industry. They have consistently positioned themselves as a brand that never compromises on quality, production value and comfort. Despite the high pricing, their products do all the talking for the brand.

Hence, when they were sued in 2013 with a claim that their $80-$100 yoga pants were transparent, it certainly caused quite a scandal. Lululemon's PR team quickly assembled to tackle this fiasco, like a firefighting squad with their hoses ready. As a first step, they fully owned up to their mistake and accepted the production error. Step two, they did a full recall and replacement of the inappropriately transparent pants. Doing all of this in public view truly helped alleviate people's negative sentiments about the brand due to their sheer honesty and 'transparency' (a lot like their bad batch of pants! ;)).
Lululemon's production fiasco is a classic case of how negative reputation can be given a positive spin.
What is Online Reputation Management?
Online reputation management strategy (or ORM) is popularly perceived to be a cross between social media monitoring and public relations management. ORM is everything to do with your brand's reputation in the online community.

So, don't know where to begin?

We are here to help you crack this as we list down the 6 important steps of how to successfully manage your brand's Online Reputation Management!
1. Make Google your best friend
Right from hunting for photos from Priyanka Chopra and Nick Jonas's wedding, to 'how-to-make' steps for Dalgona coffee, we hit the Google search button. This ubiquitous all-knowing network is who we turn to, for all our questions and answers.

Hence, when your customer searches for you, the very first page of Google has to sell your brand/ business more than your business card would! Statistics say that 94% of people do not go past the first page of a search result. So, optimize your brand information on 'Google My Business'.

To listen to what people say about your brand, sign out of your account and google your brand name or relevant keywords. This is so you get unbiased search results without being influenced by user-specific filters. Work with your SEO team to weed out any negative reviews and push up the pages that positively promote your brand.

2. Use social media to engage with your audience
Social media is an effective tool to create hype around your brand. 'Influencer' is the buzzword and posting engaging content about your brand across popular social media communities like LinkedIn, Instagram, Facebook and Twitter, will help boost your user engagement and popularity.
Devise witty promotional campaigns to boost customer engagement so they organically market your brand. Users are always asking the question 'what's in it for me?'. That is why giveaways, discounts and freebies work as this is designed to draw your audience by offering benefits, piquing their interest, and building trust.

Take Starbucks for example – the kingpins in the coffee-brewing industry. Their social media marketing campaigns are unique and are always a hit with their followers.

Here's one such campaign for the Holiday season:
"Enjoy our Merry Delights this festive season. Buy any beverage or food and get up to 50% off on food. Visit your nearest Starbucks store before 31st December.
#MerryCoffee #FoodAtStarBucks
T&C apply*"
This is an ingenious means of marketing your brand. By putting up this post, Starbucks is directly increasing their footfall at their stores, brand's visibility, traction and of course, staying relevant to their audience with the 'holiday season' connect.


3. Listen to your customers and respond instantly
Listen to your customers to learn and grow while building your online reputation. The internet can be a sticky place because once something is posted online, its impact remains there for a long time. Hence, your responses to your customer's queries, complaints and words of appreciation must be genuine, polite, professional, transparent and swift.

Address your criticism
Irrespective of whether you are a growing brand or an established one, the internet will throw lemons at you. Make sure that your viewers and customers realise that you are a brand that 'listens'. Play your cards right and you might even turn the once disgruntled customer into a loyal lifelong customer.

Celebrate your 5-star moments
85% of consumers trust online reviews as much as personal recommendations. Hence, generate and market as much organic positive buzz as you can and build your online reputation base. Reviews increase your brand's credibility and the general likelihood of casual window shoppers turning into potential customers.
4. Engage with tailored content to achieve influence

When the Kardashians made shapewear popular with their waist trainers, brands all over the globe jumped on the bandwagon. Apparel brands spotted gold with this product in the market and milked the trend at the right time and based their marketing campaigns on this trend. They manufactured shapewear to entice women into believing they too, can achieve unrealistic hourglass figures like the K-family. Sales sky-rocketed and companies profited like never before.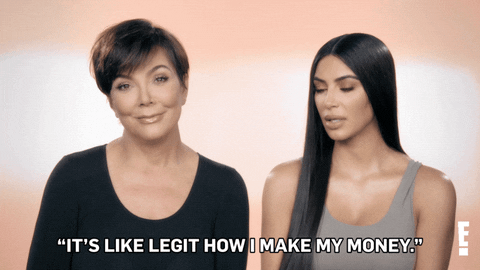 This is a classic example of why your brand should be aware of what's 'in' and accordingly create relevant content. Make your audience an integral part of your marketing strategy. Doing so not only builds brand relationships but also encourages a constant stream of content from your followers, thereby creating an incredible positive buzz around your brand.

There are multiple ways of discovering the type of content that your audience can relate to. Use analytics. Stick to good old technology and tools to help you figure this out. You can even learn from your industry peers as to what would and wouldn't work with your audience. 

Another way to approach this is by simply asking your audience what they would like to see. Ask them via an interactive poll, a survey or a simple questionnaire. This will make them feel more connected and involved in your brand's creative process. And in the end, it's a win-win for your brand.
5. Google Alerts
Whether you're a beginner or a vetted pro in strategizing how to manage your online reputation, get a head start with Google Alerts and it will be a smooth sail. Google Alerts was the first of its kind proving to be a great online reputation intelligence-gathering tool at zero cost. The functions of Google Alerts can range from scanning search results and review pages to looking for your brand mentions in articles or other websites.

There are also other newer tools in the market that could be viable alternatives to Google Alerts. Namely, TalkWalker, Mention, Uptime, ReviewTrackers, etc.

6. Measure your progress and track your milestones
Use appropriate tools to track your progress and measure how your strategies have helped enhance your reputation online.

Tools like Xtract.io prove to be an all-in-one solution, making the process of strategizing your ORM plan, a breeze. So whether it is tracking web mentions, devising automated responses, turning customer insights into actionable items or analyzing your brand's performance, Xtract.io does it all for you.

Xtract.io offers AI-powered sentiment analytics tools that help you sort positive and negative reviews. With intuitive user dashboards, you can see real-time graphical data of positive, negative and neutral sentiments of your customer reviews. When you see the positive graph soaring- when angry customers slowly morph into the positive and satisfied customers' side, you know you've done something right!

Conclusion
Online Reputation Management strategy is not something that happens by chance. It is about monitoring the buzz around your brand and actively engaging consumers to positively discuss and market your brand.
Lululemon did not just build a brand, but they built an ultra-luxe fitness community. And even though there were one or two missteps along the way, they listened to their customers, responded effectively, quickly recovered and are now more successful than ever!

And that is why it is of paramount importance to make your brand's online reputation a primary business focus. I cannot stress how incredibly rewarding it is when your customers love your brand and spread the positive buzz online, skyrocketing your business's popularity and reach!